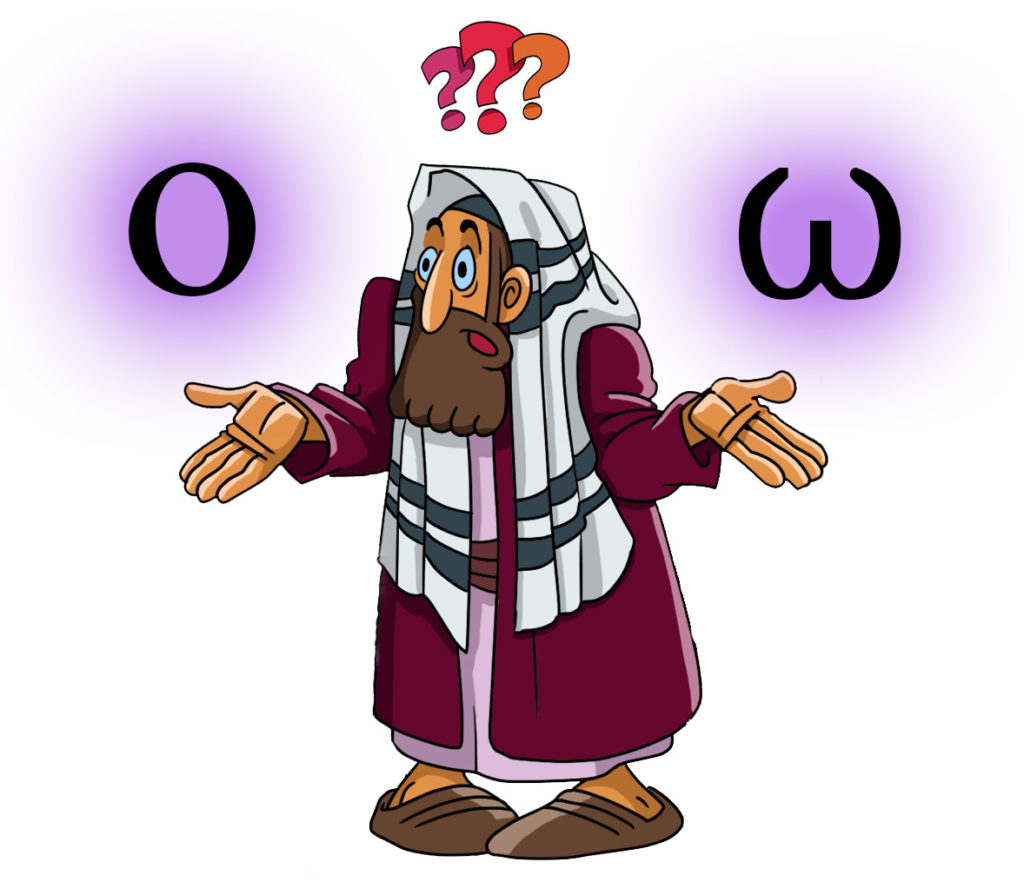 Greek alphabet has two letters that give the same sound [o]. Today grammarians are still not sure why Greeks needed two letters with identical pronunciation. We may not clarify this dilemma; however, we can definitely discover something unique, special and useful when we look closer at these letters.
In this article we will look at these two beautiful letters, learn their unique features and unlock something what will help you in your studies of the New Testament.
The letters are O, o (omikron) and Ω, ω (omega).
Omikron is short, and omega is long. In the ancient days Greeks pronounced long vowels a little longer but today we don't do it anymore. The length of vowels is purely grammatical (i.e., it helps with accents, diphthongs, contracting vowels and etc).
First, let's understand their names.
The word "omikron" in Greek is written as "oμικρόν" and consists of two parts o–μικρόν. Μικρόν in Greek means small, little. Thus, the meaning of o-μικρόν is "little o" or "small o".
On the other hand, "omega" in Greek is "Ωμέγα" and also consists of two parts Ω and μέγα, or "great O," since μέγα means great. Compare English megastructure, mega-machine, megapolis and etc. Thus, we have a little-o and a great-o. One is short (the little-o) and one is long (the great-o).
This alone would be a great lesson, but here is the bonus: the words μικρόν and μέγα occur quite often in the NT.
The Greek μέγας, μεγάλη, μέγα (m, f, n. big, great) appear 243 times in the New Testament. Here are some examples:
Luke 1:32 οὗτος ἔσται μέγας = he will be great
Luke 7:16 Προφήτης μέγας ἠγέρθη ἐν ἡμῖν = great prophet has risen among us
Acts 5:5 καὶ ἐγένετο φόβος μέγας ἐπὶ πάντας = and a great fear came on all
Rev. 8:10 ἀστὴρ μέγας = a great star
Rev. 11:13 σεισμὸς μέγας = a great earthquake
The Greek μικρός, μικρά, μικρόν (m, f, n. little, small) appear 46 times in the New Testament. For example:
Luke 12:32 μὴ φοβοῦ, τὸ μικρὸν ποίμνιον = do not be afraid, the little flock.
John 12:35 Ἔτι μικρὸν χρόνον τὸ φῶς ἐν ὑμῖν ἐστίν = Yet a little time the light is with you.
James 3:5 ἡ γλῶσσα μικρὸν μέλος ἐστὶν = the tongue is a little member
Rev. 19:5 οἱ μικροὶ καὶ οἱ μεγάλοι. = the small and the great.
As you can see these two letters hold a lot of information in their very names and provide some valuable nuances. Not only we learned which letter is short and which one is long, but also learned two Greek words that appear about 300 times in the NT.
If it was useful to you, feel free to share the article and also leave a comment below.
Until next time.
Stan